EC-B is a basic system capable of limiting hight and/or slew. It should be used when there is no additional risk to human lives and the machine wouldn't badly compromise infrastructure. It would serve as to protect the machine and infrastructure from damage, such as tunnels and bridges. Just like our other InTeEx systems, the EC-B compromises of standard components. 
EC-B can be installed on many machines such as excavators, wheel-loaders etc. The height limitation can prevent up to a 3-piece boom from exceeding a set height and the slew limitation can prevent the machine from rotating into an area set as off-limits by the operator. EC-B uses proportional valves which allows for a smooth and controlled deceleration when the set limits are approaching.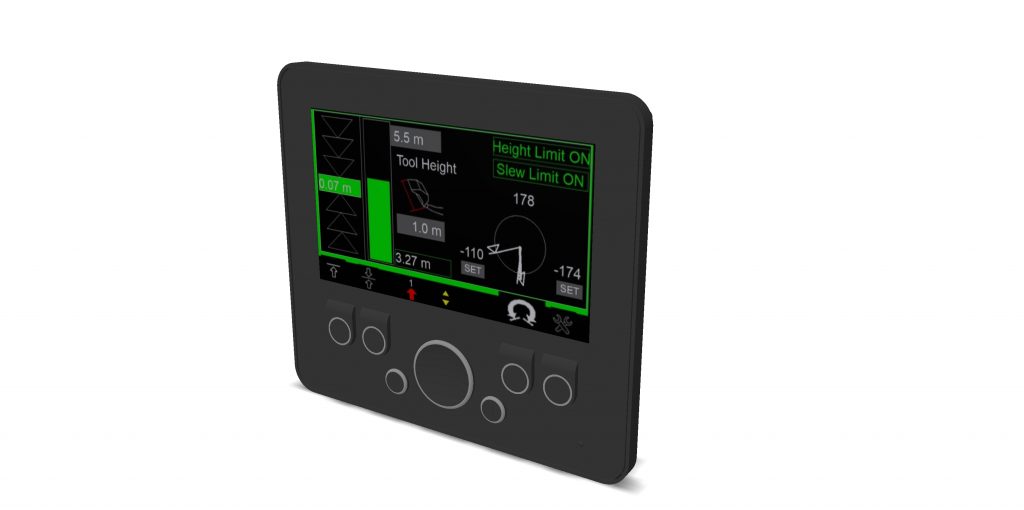 Everything from installation to the operator handling have been designed to be as simple as possible. The operator have only a few options in the display and can with a minimal amount of button presses configure limits, activating and deactivating them as well as set tool sizes.
Three reasons to choose EC-B
What is the intendent use for the system?
EC-B is designed for construction machinery in need of a simpler height- and/or slew limiter, where there is no formal requirement on a safety system, but where additional protection is desired to prevent costs that arise from damages to the machine or infrastructure around it. EC-B can be installed on machinery with 0-3 booms and/or machinery with a slew function. 
When to choose another of our systems?
InTeEx have developed multiple different systems for different purposes. Please refer to our product comparison page for an overview of our different functionalities. You can also contact us through the form bellow.
See the EC-B brochure here
Would you like a presentation or additional information?
Please use form below to get in touch with us, for example for a closer presentation of our products. We will get back to you as soon as possible. If you fill in the form, you consent us to used filled personal data to fulfill your request. You can at any time contact us to revoke this consent.